Oh Club Monaco -- I can't help but longingly stare at your mannequins' outfits when I pass your stores.
You have such nicely tailored clothessss
I'm especially lusting the blazers -- such perfect fit!! Seriously need to try this on...
This outfit is cute!
Love the pencil skirt in this outfit - also a perfect fit.
High-waisted skirt [$109-119USD]
I like the proportion in this outfit and the whole wide-legged pant idea but I don't think I'd wear it.
Cute shorts! [$59]
I'm SO excited about their sunglass collection! I've been looking for sunnies but I want semi-quality ones that weren't $200 but not really night-market quality either. These sunnies are in the right price range. Plus, they're vintage-inspired which is exactly what I love! Hope they fit.
These might be too thick/dark for me, but I like the look and the possible gradient lens.
If I didn't own aviators, I'd be interested in CM's version too. Very nice. They even have the plastic thick-rimmed aviator-type and Ray-Ban look too.
Speaking of glasses, I'm gonna get new frames soon. Gotta start searching for some! I wish I bought a pair in Hong Kong like B for cheap!
BANANA REPUBLIC GOES GREEN:
Preparing for Earth Day on April 22, Banana Republic will launch a 50-piece eco-friendly green collection for women and men that will hit stores on April 8. The collection, made of renewable or sustainable fabrics like bamboo and organic cotton, retails from $24 to $150, and will be a continuing concept.
CLUB MONACO DIPS INTO SWIM: Club Monaco is adding a poolside presence to its stores for spring, with a capsule swimsuit, sunglasses and cover-up collection. For women, there are three swimsuit styles, all retailing for $89: a triangle palm print bikini, a black-and-white polkadot bandeau, and a solid black with a triangle top.
That's the polkadot bandeau. Pretty cute!
_________________________________
Today I finally used my

Nair Pretty Hair Remover Cream

on my legs.
Enriched with moisturizing peach, Nair Pretty Cream is gentle to even the most sensitve skin. It has been dermatologically tested and is suitable for your legs, bikini line, and underarms.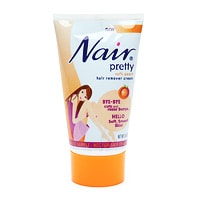 I bought this a year or 2 ago for around $6 at Superstore, but never used it... or maybe I have but I don't remember. I've tried Nair classic wipe-away cream before and wasn't too impressed... and it reeeeeked.
Anyway, the package looks like new still and there's no expiry date (that I can see) so it looks pretty safe to use. The smell is "soft peach". Yep, I definitely smell the peach, but I also smell the strong, indescribable Nair smell.. It claims to make skin feel

peachy soft

. And let me tell you... it DOES! My goodness I was so shocked at how well this stuff worked! I put a thin layer on both legs (even though they say to put a thick one), waited 15 minutes like the directions said (also because I have thick hair -- if you have thin hair, you can just leave it on for 5 minutes), and wiped it off gently w/ a damp faceclothtypethingy. All gone! My legs are so smooth and soft! The only thing is that you should exfoliate beforehand if you have thin surface in-grown hairs like I do so there are about 5 hairs that I had to pluck instead... oh and you gotta make sure you take it off gently or your skin will turn slightly red. Butchea - recently, I've been quite unhappy with razors.. maybe it's just the ones I had, but I even opened the a new Venus Gillette one and while it definitely shaved my legs, the shave wasn't as close to the skin as I'd like so I'd feel prickly legs the next morning. It's only been 5 hours since, but it's still just as smooth! So yea - I'm pleasantly surprised and happy about this old purchase.
The quickie:

It's super easy to use, takes very little time, smells quite pleasant compared to other Nair products, and actually does what it claims to do EXCEPT I wouldn't recommend it for those with sensitive skin. It's not as gentle as it should be and will cause a burning sensation/redness on sensitive skin.