For a while now.. ever since the beginning of Fall 2007, I've been SO uninspired by clothes and fashion. Everything looked so Lauren Conrad (aka.. the same)... and I even had no desire to shop for myself (SHOCK!). I wore shades of black all the time... and not the kind that makes me feel chic when I wear them. It was just something to put on - a "don't look at me" outfit. But now, I don't know - I read a few magazines and I'm starting to really find things that I like -- things that I would never have liked even last summer. I've become a lot more open to new styles and have not lost all hope. Hurray! This calls for some sangria MMmmmmm


It's kind of weird that my

three fashion muses

are all blondes:
1. Nicole Richie

2. Jenny Humphrey's character from Gossip Girl

3. Whitney Port from The Hills (sometimes)

I found this site - www.overstock.com where they sell discounted brand-name clothes.
They've got some real cute items!!


BCBGirls Pearl Anna Swing Jacket

[Reg. $198/ Sale $109.99]

I'd love this for winter! Such a cute swing jacket.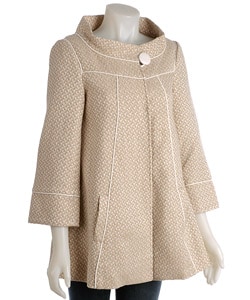 Tahari ASL Women's Silk Doupioni V-neck Dress

[Reg. $178/Sale $129.99]
Such a pretty, flattering dress! I love the yellow.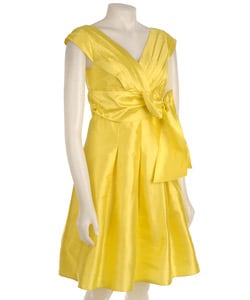 Look at the detail!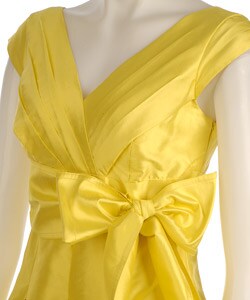 Betsey Johnson Women's Astro Pop Evening Dress

[Reg. $415/Sale $219]
This looks like something Whitney would wear.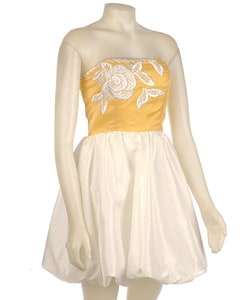 Yellooowwww!


Nine West Cotton Maxi Dress

[$140]
Ooo so prettyyyy -- I want a Maxi Dress!

The back:
N
ine West Silk Georgette Dress
[$140]

Also available in cream. Made of 100% silk. This would be a perfect addition to my dress collection. Valuable and versatile piece IMO.
Nine West Drawing Straw Small Clutch

[Reg. $49/Sale $34.99] in Mediterranean Print

I find myself being drawn to things that I would have deemed ugly back in high school, that I find really beautiful now.
Wow. I've never seen Mariah look this good! I love her body shape - perfect hour glass figure and so healthy too. Great dress. I think that's what I want to do -- a wedding dress that's just some high-end designer gown that can be altered so I can wear it again for other ppl's weddings or whatnot.. not one that will sit in my closet for the rest of my life, unworn (like a prom dress... ah if I got to do it again, I'd definitely just get a $300 BCBG dress I'd wear again or something instead). That's just me though.
Oolalaaa

Sparkly Louboutins?

Let's see - what have I been up to... on Wed... darn I can't remember what I did in the morning, but I remember London Drugs + then M's house for super yummy Greek food (Gfood) and stuffed myself silly with 2.5 rounds (lol!). Thurs, Nad and I were supposed to go out for a movie but it took too long for us to take pictures so we missed it =(... I finished Coffee Prince (Kdrama), and went to Costco to develop the pictures!

Today... OK so today my mom came home in the morning from her trip... I did my exercise (more than usual which is why I treated myself to 2 Haagen-daz popsicles after dinner lol), dropped Jess off, and then went to help M w/ her haircut (she looks quite different -- darn I forgot to take an after shot!) in North Van - then we went for Kfood. While I was waiting, I went to Lynn Valley mall (tiny mall) and practically went through every store, spending most of my time in Winners. That Winners is sooo small compared to the ones I've been to, but every item is a lot nicer than the usual junk you see in other locations. Anyway, I had a field day in the shoe area. I usually NEVER find ANYTHING there but I ended up buying 3 pairs of shoes for less than $135 including tax! I quite like them all but I know I'm going to have to return one or two at the end. The first one I bought was a Liz Claiborne navy blue (well, a little lighter) patent slingback peep(ish)toe for $50 (from $85). It's super comfy (fits my foot like a glove) and I thought it had a bit of a vintage touch to it even though it's plain but M's hairdresser said I was too young for it. That blue IS a bit hard to match too so it might be returned. The 2nd shoe I saw was a Nine West sling back (cut-out) pointy-toed stiletto with an ankle strap that I got for $60 (reg. $115). I like it quite a bit - I never had these types of pumps before -- mine were always peep toed sandals. Usually ankle straps cut off leg length but hopefully that wouldn't be a problem for me. Last of all, and my favourite, is my chunky satin BCBGirls T-straps w/ a flower on the front. They were only $36 from $130+!! Most possibly my tallest (and chunkiest) heel at 3 inches I think. They're also comfy too. I also saw these cute silver Guess skimmers w/ a bow on the front but they didn't have my size... they were also cheap too! $26 I think.


Oh wow - happy next Friday everyone! The Weather Network says it's going to be a high of 30 degrees Celsius.

I'm sad - Costco will no longer be at the location near my house as of May 20th. It will soon be replaced by Walmart... which is a good thing I guess... give Superstore a run for their money... but I did love my Costco!


4 days 'til LA! I sort of packed today.

Goodnight!