I'm giving myself 10 minutes before I start studying for tomorrow's Natural Hazards midterm. Today's Ling 220 midterm went badly. I'm really regretting taking this course - it's gonna drop my GPA. Natural Hazards lecture... I fell asleep over 8 times! It was terrible 'cause I was in the middle of the last row of a not-very large lecture hall, and there was a lot of empty seats in front of me... and the light was shining on me, not even reaching the guy next to me... yet I kept on nodding off..... I was so tired, I could have cared less if I got to sleep on the floor. I couldn't even open my eyes to even pretend to look at the powerpoint presentation! This is what 5.5 hours of sleep does to me...

On Monday, Alana and Suzy came to town! I couldn't eat at Dae Bak Bon Ga w/ them + M b/c of my Ling class, but they picked me up afterwards and we went to drink BBT, play DDR (their first time!) @ CHQ lol and watch

Ghost Town

(light romanticish comedy, pretty good but not worth watching in theatres IMO). Yesterday, M took my place at work while I spent the day studying... then I ate dinner @ her house + did a mini shop @ T&T + Superstore. Deposited my surprise Government cheque too =) A nice bonus. Plus I received my CDs from YesAsia! DBSK's Mirotic (of course), Big Bang's Stand Up, and Shinee's Shinee World. My next order will be of Lee Hom + Wonder Girls. Mrs. Young dropped off muffins and a loaf for me today! And I'm going to have a yummy greek salad for dinner =)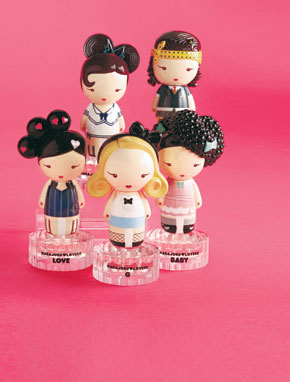 I still haven't received my

Harajuku fragrance

survey samples, but I got an e-mail -- click on the picture for

more details

. You can get free Harajuku fragrance samples! Hurry 'cause supplies are limited. And just by signing up, you can win one of thirty $250 Shoppers Drug Mart gift certs! Wow..... well you know who to share the wealth with, right?

These bottles sell for around $50 each @ Shoppers. From what I've sniffed so far, Music and Lil'Angel are my favourites. It's a win-win situation, so

sign up

!!

My hair is growing so fast. I guess it has been 2 weeks since my haircut (already!!), but my bangs are poking me in the eye. When I first got them cut, they hardly reached my eyebrows! Even 3 days after I cut my hair, ppl noticed that it grew longer already.

And whoaaaa this post is a quite pink and girly looking.