So on Monday, M and I went down to the states. Nad mentioned this new or updated mall called
Westfield Southcenter
in Seattle that had a 2-floor Forever 21 (and a 2-floor H&M but that store ain't half as exciting... or even exciting at all?). Anyway, B and I went to some Westfield mall chain down in LA back in May and it was pretty good so I was excited. M picked me up at 6:30AM and we headed down with our usual stack of music. It took a bit longer than usual to get down this time because of traffic and accidents, but we made it down there at around 10. We always seem park in front of Nordstrom.
Westfield Southcenter is biiig. It seems bigger than Metro espesh. since the stores seem so wide! First stop: Forever 21. Oh My. It's pretty sizable! M and I spent over an hour there, sifting. There's such a variety -- and they even have their Heritage line (but it's pretty much full of only 'vintage' tees). Everything was in sections - animal print/florals/jeans/ethnic prints/heritage/jersey material/their regular stuff/new stuff/accessories/guys... and there were TONS of each item... at least their new stuff. I ended up just getting a pair of gray high-wasited shorts, a belt, and a black rope tank.
Then we ate at The Cheesecake Factory -- I had the same thing I had in LA w/ B: Hibachi steak and a Santa Fe salad except we didn't eat any bread or share an appetizer lol. YUM I love The Cheesecake Factory! We ate pretty fast 'cause we wanted to go through all the stores before heading back at 7 (it takes about 3 hours to get home).
We went into Delia's. The display is a bit deceiving.. they dress their mannequins so much better than their actual items. Both M and I were so amused at all their music-themed stuff that M tried them all on... at the same time. Oh my. And as a result... sweatpants with a treble clef on it, a white note-splattered beater, a cropped music knit sweater, and a keyboard tote.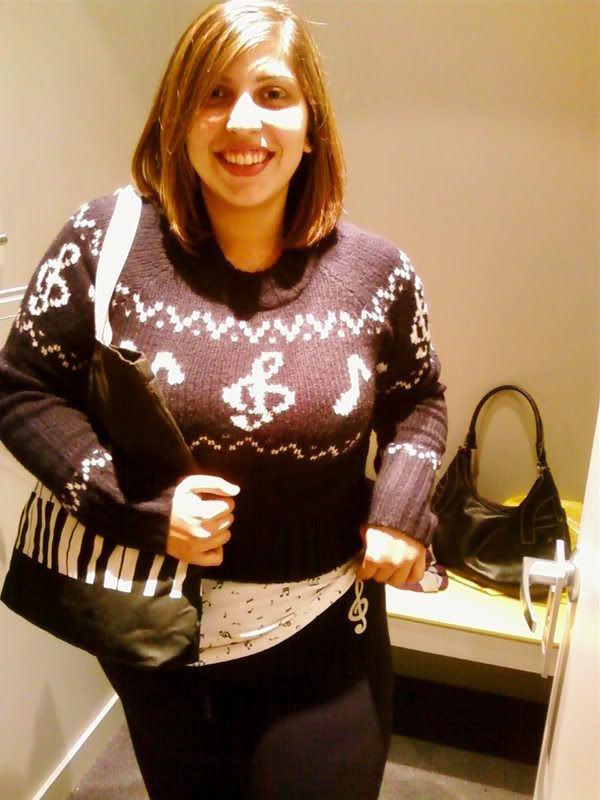 There's this new clothing chain called Love Culture that sells clothes similar to F21 except they seem to be made a bit more cheaply... the prices show... and it seems as though it's for younger ppl. The store is still better than Anchor Blue and Wet Seal though IMO. Hopped in and out of H&M.... nothing different than ours. Found this little boutique store called JuJubes where I ended up getting a thin, black shirtdress for work for $30... something I could have gotten in HK for less than half the price but I ain't in HK am I?! Darn.
OH! There's this new lovely store I'm quite excited about!!

Gilly Hicks: The Cheeky Australian Cousin (fictionally from Sydney) of Abercrombie and Fitch.

Logo: Koala.
I actually thought the store was A&F modified before going in. Inspired by the phrase "down under", GH specializes in intimate apparel from casual to sexy, relaxed loungewear and personal care products. You can definitely tell it's related to A&F by the decor and colours -- very dark and full of small, 'intimate' rooms.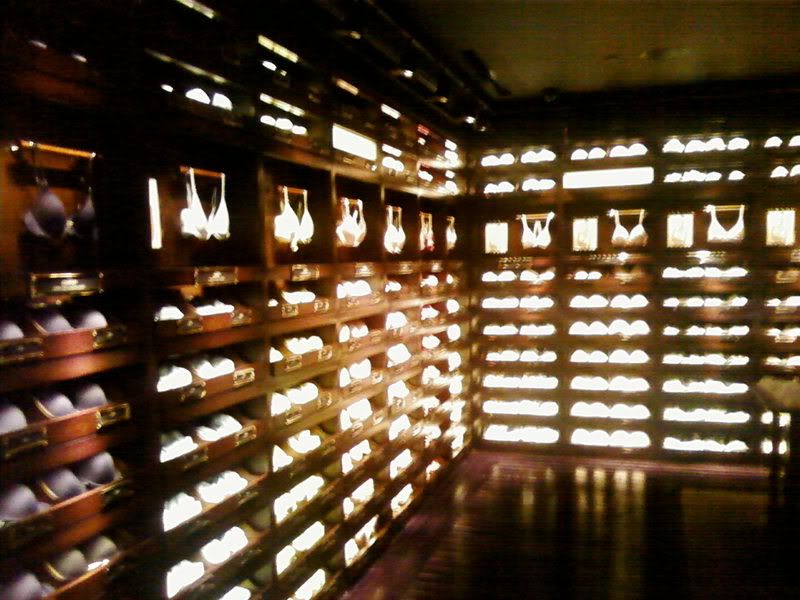 M and I zipped through 'cause we were pressed for time and just wanted to see what they had to offer. M said she felt like she was on a ride she wanted to get off of haha The whole place pretty much consisted of bras displayed in inset shelves and drawers, underwear on tables, and really cute/pretty sleeping sets.
OH the BEST PART is their changerooms!! It's like a living room!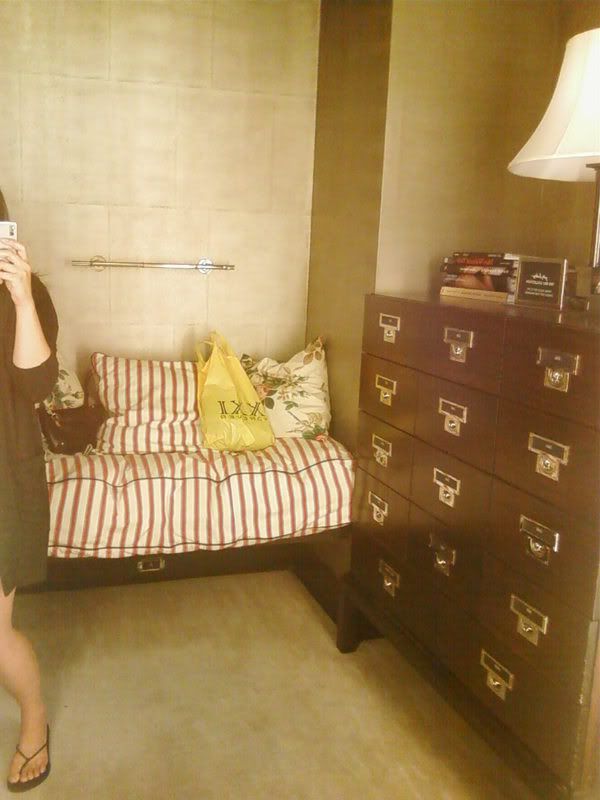 Spacious, carpeted, air conditioned, clean, HUGE mirror, lit, has a cushioned seating area, AND! dun dun dunnnn a whole drawer set (that I want!) with interesting portait-style vogue books on top and a vintage lamp and this thing is full of every single type of bra they carry in every single size! "Since you have your top off, you might as well try our other bras". I would have never thought of that. Shopping for bras are a bit tedious for me so it's great they took this whole comfort and already-there factory into account when they created this store. Ingenious! The whole place looks spotless but how do you clean that sort of thing? And I wonder how often they replace those "try on" bras? Of course I went on a bra-trying spree. Their bras range from $40-45ishUSD which isn't bad. They are very comfortable. I think they're comparable to Jacob's bras in the style and padding (pretty much non-existant). The only 2 things I don't like are: 1. They don't have black (A&F never carries black), and 2. You can't take off the straps! I like to wear strapless often. But comfort overrides those factors so next time I'd like spend more time in there to buy one.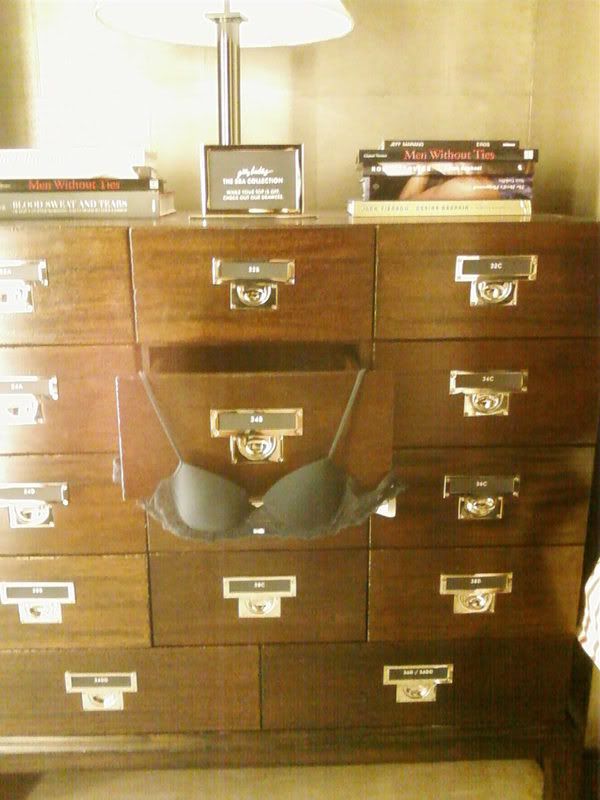 I also stopped by A&F and got myself a pair of their Erin Skinnies. J'aime.
I was semi-interested in this store called Charlotte Russe - I'm not sure what sort of age they're trying to target but it looks like late teens/early 20's. It was still under construction.
We ended up browsing around some other stores such as Macy's and others I can't remember right now -- didn't go to Sephora (didn't have money to spend on cosmetics on this trip). OH and Nordstrom -- we ended off there. This Nordstrom seems smaller than Alderwood's and it doesn't have as many brands. I tried on BCBG's 'famous' sandal....... and I love it...

Everyone on the floor loved the shoe too… might order it online once I straighten out my finances. We also spent 45 minutes in Alderwood to pick up a few accessories: belt, scarf, barettes, false eyelashes.
So yea - Westfield Southcenter is worth to go to, and if it has a Forlove 21 + a Daiso, it'd be even better. You can always drop by Alderwood on the way up.
I want to go again soon.