I'm going to be working at the

Tension/TbyTension/Sweet Chemise/CoyCat

warehouse sale on June 19 (Thurs), 20, and 21st. They sell mainly dresses and yoga/athletic-wear + everything is designed in Vancouver and made in Canada. Click on the pic and check it out!
I don't know how I slept last night, but I woke up with the perfect amount of lift in my hair. I wish this could happen every night.


Designer jeans --
I've decided to scout out some D-jeans (as I'll shorten it) on Shop Bop. I think I've only tried 1 pair on in my life and I don't remember how it fit. Apparently they're
a whole new experience
(my dad agrees too after he bought his first pair). I honestly don't see many that I really like out there. Contrary to most, I'm not a fan of the flashy pockets (xept for the occasional True Religions) nor the material for a lot of the dark washes... but why buy D-jeans when noone can tell which brand they are? The fit. They're supposed to fit a lot better than other jeans.

So yea - here's some of

my ShopBop D-jean picks

(which is a bit unfair to the D-jeans 'cause some of these jeans don't even look good on the models)... I'll save you from scrolling this time hehe

I'm trying to stay away from skinnies 'cause I already own a few pairs.

J Brand Lightweight 14" Cigarette Leg Jean

$159

J Brand 9" Mid Rise 14" Cigarette Leg Stretch Jean $159

Paige Denim Laurel Canyon Boot Cut Jean $169

Chip & Pepper Stella Boot Cut Jean $146

Genetic Denim Recessive Gene Tailored Sexy Fit Straight Leg $176

Joe's Jeans Honey Jean $156

Joe's Jeans Provocateur Petite Jean $174 (light wash slightly distressed boot)

True Religion Joey Flare Leg Stretch Jean $196 (super light wash)

True Religion Candice Wide Leg Rigid Jean $172 (white! but I dare wear white pants lol)

Yea they're not ridiculously expensive, but I have other things on my lust list so these can wait.

lol I think it's so funny... SM made another sub-group out of Super Junior (who I still can't remember all 13 names!!) called
Super Junior - Happy
.............. with their title song Cooking King. Oh my.... the lyrics are HAHA
So as you can see, their music is definitely happy.. I don't know though... SuJu T was different 'cause I mean, it's trot music!! Rokkugoh!! But this is a ridiculous money-making group. To be honest, SuJu probably has the least amount of talent out of a lot of the Korean groups out there. I have no idea what a lot of them do in their spare time 'cause they definitely don't seem to spend their time practicing to get better. Only a handful of their members shine and stand out with either their dance skills, singing abilities, or their odd personality (Heechul...)
Anyway.


I downloaded

Battle's 3rd single album Step By Step

. Love the cover! I'm really into gold nowadays.

Wow... it's SUCH a copycat of Big Bang.... they have the same producer for this song I think. Very very similar.. and very very different from their previous stuff, after they've lost that one member.
They used to be very typical k-pop (that I saranghae-d!! ICARUS!! [looove]) and now they have some sort of club-type/hip-hop type music now... trying to show their versatility. Nice beat though - addicting. Seems like they grew up a bit and got a lot taller. No more babyface! I didn't know most of them were my age -- I thought they were a few years younger.

I'm not used to their looks w/ this music... I think a couple of them still have their boy band hair that doesn't really go with this type of music so it looks odd. The guy in the purple/green hoodie (I think it's the same guy?) really caught my eye. I believe his name is Jin Tae Hwa. J'aime beaucoup!
Their shades really make their change of style more believable. And some of their dancing is a bit stiff but good try!
Similar choreography with Big Bang but BB is a bit smoother. They're much better looking than Shinee but Shinee has more talent in the dance + style department.
I look forward to their songs, though!
Their other songs, Luv U and Big Change are great songs too.

I discovered this girl called

AngelaBaby

.
She's a Chinese net idol/ulzzang and also models.
19 yrs old and I believe she's mixed (1/4 white).
Gorgeously natural girl.
To me, she's one of those girls who's so pretty you can't take your eyes off her sort of thing.
She has a heart-shaped head - sort of proves my theory that those w/ heart shaped heads have the most potential to be the prettiest.
But she wasn't always as pretty as she is now - 3 years ago she was a lot plainer w/ braces and such.. and was in a bit of an awkward too skinny phase.. but as she grew up, she became a lot better looking.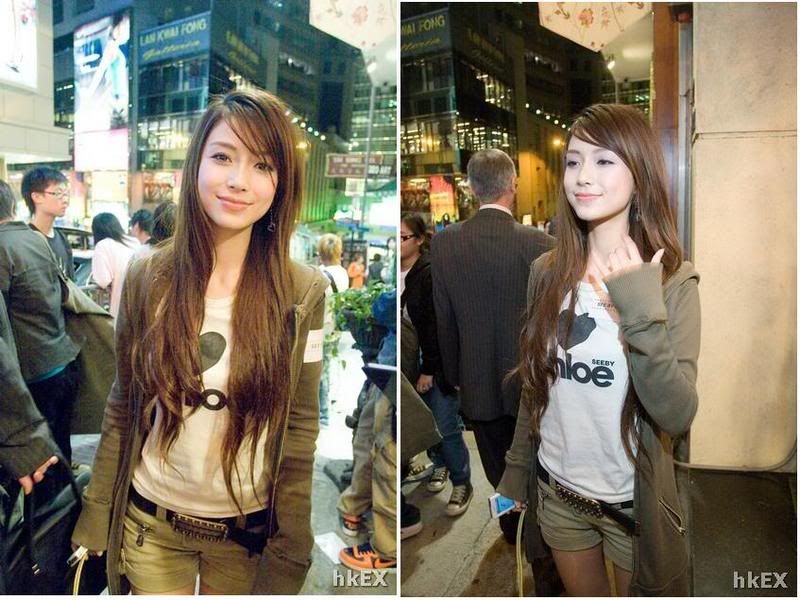 She also has these super adorable Polaroid-type cameras that churns out pictures on these Hello Kitty (or Disney) frames! Where can I get these?? I bet the film for these are eve more expensive than my Polaroid film!

**

Anyway, cool girl. She makes me want to go back to HK and shop.


I put a bid for that Vintage 70's Cream Floral Mini Pleated Sundress on Ebay - my first actual auction-bid!

I'm so glad it's sunny now! Tomorrow should be sunny too.

Next week I'm working Sunday, Mon, Tues, and Wed.