MY DAY

Final #1 of 4 (Financial Accounting) is finito! It went.... alright. I think I did pretty well on the multiple choice... and I got most of the questions that involved numbers and calculations, but I probably only got 5 marks out of 30 for the theory questions... ah oh well it's over now. My next one is Kin110 (Nutrition) on Monday. I'm tired... only got 6 hours of zzzzzz

BRR it was really cold out today!
I don't know about you, but I don't even want to leave the house during finals.... let alone think of what to put on even if it's as easy as jeans and a top. I feel so unkept.. and my butt has widened and flattened from being sat on for hours at a time.

I just want sweat pants!

You know, I've only owned 1 pair of sweats in my life and it wasn't the sport ones you get in high school lol - I can't believe I went outside in these sweats! They were tapered at the bottom and they were from some store like Cotton Ginny in Gr. 8 or 9 hahahaha! I think I remember they were only $15. I still have them - use them as PJ pants. But

what was I thinking?????

lollll The butt area is so big even my big butt can't fill it out. Anyway, I think I need sweatpants -- ones that I can wear outside -- just 'cause they're sooo comfortable. I tried on B's TNA sweatpants [$60] (B, have you worn them out yet??). SO COMFY and the absolute perfect length for me. Kind of weird that TNA sweats are actually bigger than they should sized... like their S fits like a M.

Victoria's Secret: The Skinny Washed-n-worn sweats


[$44.50USD]
I like the sweatpants and hoodie, but all of Victoria's Secret lounge clothes say "PINK" on it..... They ruined it.

HARAJUKU LOVERS


New stuff from

Gwen Stefani's Harajuku Lovers

line on Karmaloop:

The 2 Tone Fatal Track Pant

[$66]

Ah I remember the days when track pants were the the only pants I had and would wear haha... they weren't even this type - they were the ones that went

swoosh swoosh

when I walked.
Anyway, I thought this type was nice to look at, but not a pant I'd wear. The inside of the leg says "A Fatal Attraction To Cuteness". I love what it says and the font, but why there? It's different, I'll give it that... but it's a bit odd.

The Pop Mini Purse in Funnies

[$26]
This is cute - looks more like a cosmetics bag than purse.


The Pop Mini Purse in Love/Hate

[$34] -- interestingly more expensive than the previous Pop Mini Purse. Maybe b/c of the metallics? This is the same pattern as the waistbag I got xept mine is black and gold.




The Pop Mini Purse in Pin Up Girls

[$28] I think I like this...
The Links Watch

[$75]

I quite like this watch! I was half expecting one of those Harajuku girls' face to be on the plate, but they've decided to keep it more neutral and timeless.
I had to add in a t-shirt. This one is called

The Paris Love T-shirt

[$44]. I honestly don't wear enough tee's to buy it, but it's cute. Reminds me of DBSK's Bonjour! Paris hehe [AUUUX CHAMPS ELYSEEES]
Ok this is gonna turn out to be another one of my looong random posts. Well, the theme is

fashion,

but the styles are all different.


ADIDAS
B and I tried looking for the classic Adidas Zip Up jacket for cheap in HK, but failed to find any.
Here's a couple on Karmaloop:


The PB Soft Feel Track Jacket

[$78] This one isn't in the material we wanted, but it's still nice.

Check out the neck!

This is the
Adidas Firebird Track Jacket
silhouette we want:
In plum [$58]

OHH found it!

Firebird Track Jacket in Navy

! [$58]

Looks diff on diff ppl - Sort of makes this girl look wider than she is.
I'm also looking for Adidas capris for running outside in when the weather is transitioning.
Something like this:


Adidas Originals SBC Capri

(Black/Gold) [$50.95] on Zappos.com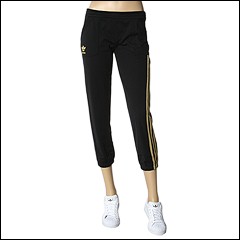 COOKIES


This pic is from The Sartorialist. Kids can wear anything! If it were my kid, though, I'd get her to wear the hat with the rim in the front and/or change her hat to a floppy knitted beret - but keep the same colour. Looks like she's wearing some pink dress underneath - I'd give her pink/red gloves. Kids can be matchy matchy haha. This kid looks great.

INTERMIX
What happens when you combine AA's racer back dress with sequins?


A racerback sequin dress

! [$420] Tadaaa -- a little too clingy? Maybe, but HOT!

Funnel Neck Wool Jersey Dress

[$240] oo I think funnel necks look great. They're so flattering for ppl who have narrow shoulders and want the illusion of a long, slim neck. Love this dress. Intermix describes it as being a mix of Jackie O. and Andy Warhol haha Charmeuse/Metallic Draped Dress

[$395]
I just like the straps on this dress. I think they could have done something to the middle to make it nicer. Alice and Wonderland key and lock pendant necklace [$30]
This is so unique - I've never seen anything like it! It seems like the 2 charms on the side of the pendant is very "in" right now for handmade jewelry.

Nap time,
N