I wasn't much of an online shopper last year, but this year I bought a few things online and have been happy with my purchases. Haven't tried Ebay yet. It's still a bit iffy for me.. gotta get my aunt to help me with that. Online shopping is wonderful though if you're willing to take a bit of a risk on sizing and such.
Nine West "Buckup" Boot

[reg. $189 on sale for [$132.30] and there's only a couple left in my size! I wonder if it'll fit my calves though....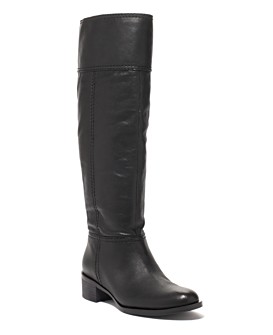 Kensie Girl High Waist Skirt with Suspenders

[$58]



I want to be able to pull off the high waist pencil skirt but my hips hinder me from doing so. This lady is an employee at American Apparel and she's wearing the Cotton Jersey Bandeau Pencil Skirt version! These American Apparel bandeau dresses are amazing! The one I bought yesterday was the A-line version. Artemis also got one yesterday and I bought one for Nad for Xmas!! You can wear them a bajillion different ways! I wanted to get the pencil skirt version to pull off the dress below. It looks so cute on that lady... but the pencil skirt is tight tight tight!

I can't seem to find these

sweater knit boots

... this pair is from

Livs

[reg. $109 now $79 @ Zappos]
I wouldn't usually give these a second chance ('cause they're a bit ugly as they are cousins of Uggs), but I saw them on this girl at Metro and it looked really comfortable! Thing is, they aren't waterproof... but it's good enough as a casual boot. Here's the description:

Soft cotton sweater knit upper in a tall mid calf height can be slouched. Hand knit with natural ventilation and comfort, rounded toe.

Shopping on

YesStyle

- no boxing day sales though.
They have non-asian models for some of their clothes now!
Kibikibi: Velvet Hem Dress with matching belt & corsage

[$75]
This dress is pretty and I love the thin ribbon belt - very delicate and feminine. The cut is one that looks really ugly on the hanger, but it's a classic. Almost Jackie Kennedy-like.
I'm into big jewelry right now. I realize I already have a lot of jewelry that I don't wear, but jewelry is fun! Trendy jewelry shouldn't be expensive though 'cause they go out of style.
Here's a few things that are cheap cheap cheap from Forever 21 -- and they're all $4.80!!


Trio Bangle Set



Bixby Bracelet Set

I really really love giant multi faceted black beads.
Ring Set Necklace

I keep saying I like these types of necklaces but I never make/buy them.


Elle Charm Necklace

[$5.80]

Crystal Pendant Necklace

[$6.80]
This one is really nice - I want to try to make it.

Victorian Locket Necklace [$6.80]
I really love this one too! It's the perfect size... and Forever21 is so cheap toooooo

Vintage Charm Necklace
[$7.80]


OK I'll stop... there are too many nice necklaces on Forever 21.
I also found out that Zara has a HOME collection!
They sell very basic things though -- and I think all their sheets are white haha but I want white sheets. My mom says it's to institutional but noo - it won't be if you do it right and with the right accessories.
I like pretty white sheets.

LOL my mom just found my brother's really old Gameboy (over 8 years!!) under the cushion in our TV room sofa. We thought she hid it from him and lost it! That's kind of gross actually.....


I'm still eating chocolate like crazy -- we just have sooo much in the house.


Snow snow snow!
I'm working at my dad's office tomorrow.
N