I've just decided that I'm going to develop a Habitat Suitability Index for the American Badger jeffersonii subspecies as my GIS final project (worth 30%). It seems like a huge project.. and Professor Hedley wants us to just use the project as a base and take it to a whole other level. I need to think of what I'm going to do and really understand my project in order to do a good job.

Currently waiting for my ice cream to freeze. I bought

Green Tea Ice

mix from H Mart (Korean Supermarket). It was all in Japanese so I had my

sensei

translate for me. Super easy to make.. and the beater tasted good so hopefully it'll turn out! If it does, I'll buy more because it was cheap (under $3).
I love kids. They're so fun and cute! lol I even baby-stalked during my trip and managed to take a couple photos.
I've taken a strong liking to

Mini DBSK

. I just became a fan yesterday night! haha
I don't really know if there's a story behind them, but I believe SM Entertainment chose each them to represent a member of DBSK. It's so cute how alike they are to each member - in looks and personality. They (well most of them) made their first appearance in DBSK's Balloons Music Video and ever since, they've amazingly gained huge popularity and instantly formed a huge fanbase. Then they were on another Korean show called StarKing and everyone couldn't help but notice how adorable they were! Now they model clothes, have their own commercials, and hold their own fanmeetings! They have the total star treatment and they're totally loving it.
Here are the

future heart breakers

:
Moonbin

(age 10): Mini Yunho
He's perfect as Yunho - this guy is the oldest and seems the most leader-like. He has such a cool personality.. like he'd be one of the cool kids in school. He dresses so well and has this confident air to him. He has potential to be good-looking (by Korean-tastes) in the future.
Inhwan

(age 6): Mini Junsu
Ok I'm biased towards this guy. Here he is modeling for some kids clothes. He has the best personality! He's always SO happy and is such a great brother... and his SMILE! His smile can light up a million rooms. Here's Junsu with Mini Junsu:
Donghoon

(age 7): Mini Changmin
This guy is such a shy cutie.
The last 2 don't really seem to have much of a personality.. I don't know too much about them though:
Chanhee

(age 8): Mini Yoochun
Here's Jaejoong with Chanhee
This guy doesn't seem to smile/talk much.
SungWoong
(age 9): Mini Jaejoong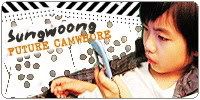 This guy is a bit funny looking... his teeth... I really haven't seen very many pictures of him.
Kids are so lucky - they have the nicest clothes and they almost always look good in them... and what's more is that they don't care how they look! They just want to play and eat ice cream.
Oh speaking of ice cream, I'll go check on mine --- yay it's ready! It tastes just like what it is - Green Tea Ice. It's not creamy enough to be ice cream (b/c there's only milk in it) - it tastes like Bubble World's Green Tea Milk Slush.
I'm gonna make dinner tomorrow -- I don't know what to make but I'm inspired by fennel 'cause I watched a couple shows on the FoodNetwork and both chefs used fennel. I think I want to make a fennel salad.
No fashion today.. but I'll quickly tell you about my adoration for
Mario Badescu's Special Cucumber Lotion (Toner) [$15USD for 8oz.]
I

swear

by this stuff. It's a toner/astringent so basically you moisten a cotton pad with this stuff and gently wipe your face. It takes out all the grime and any extra residue off your face and is VERY effective getting rid of your acne! Even if I think I washed my face thoroughly, I use this afterwards and the cotton pad has traces of makeup and even sometimes dirt (in the summer) on it. Gross but it totally means it works! It has cucumber in it so it's soothing, non-drying, and non-irritating. I had Steph get this for me when she was in L.A... but you can get it here for almost double the price at BeautyBar I believe. I only use it once in a while because I still have the Wild Cucumber and Lettuce toner from SkinFood that I still have to finish.
If you go to Mario Badescu's site, you can get free samples of products that suits your skin type when you fill out this questionnaire! It's quick and easy and they send you a bunch of mini pots of what you should use (all free!). I actually did it twice (around 6 months apart) and both times they sent it to me... and that's how I found out about this stuff. Yay - good quality stuff. Go and get it!
"Sleep well",
N