[Friday's post]
My aunt gave me a camera today! Another lomo to add to my collection: a

CyberSuperSampler

.
For this one, one shot produces 4 images in a single print. I loaded a roll of film into it today but I haven't tried it yet. No flash though, so outdoor pics only.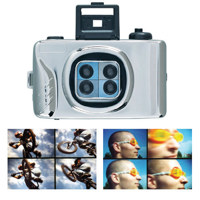 Had lunch with Helen and Lisa
♥


Lisa has inspired me

so much

to start my own business. Lisa is starting her own dessert place called DOT across from Oakridge (she's renovating it all) and I'm so amazed (she's 20)! She has done all her research over the past year and has set up a business plan and is really setting this up with everything she has and she's still going to school (doing Business)! I'm so proud of her and cannot

wait

to attend its opening in Feb. Helen and Lisa said I should open up one of those boutiques selling clothes from Asia (concentrating in Korea and Japan)... like the high end, good quality clothes... (there will finally be Vivienne Westwood merch in Vancouver!)... and also sell their make-up and shoes and everything I'm interested in. People don't want items from chain stores -- they want something unique. This is the idea I've had in my mind for a long time now but I was hesitant to actually say it out loud for various reasons.... but to have H&L suggest it for me without me even mentioning my love for shopping/Asian fashion... maybe that's a sign? Plus they gave me some great tips/ideas I could possibly use. This is something I could see myself doing and I'm already dreaming up my business plan (minus the financial stuff, of course)... I just feel really excited and more relieved as if I've been holding my breath for so long and I finally get to exhale... but of course there's a lot to think/research about still.

Lots of laughs at work today - a nice way to end the last day of fun before I crack down on finals (even though it's only a week).