SM Entertainment churned out a new boyband called SHINee (샤이니) that's said like "Shiny".
They just released their 1st song/MV, Replay, yesterday.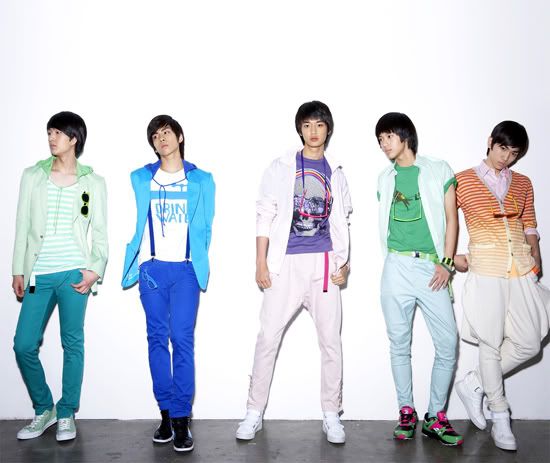 From these pictures, they don't look half bad. They're styled (in a European Contemporary Look) by a famous fashion designer, Ha Sang Baek. Anyway, their MV. None of them are good looking man.... which makes me surprised 'cause it seems that SM seems to rely a lot on looks... and from the other boyband groups out there, there's at least 1 that's decently good looking! Battle... FT Island... SuJu.. Big Bang... SS501... etc.. Let's just hope they have amazing personalities. I take it that they're young - the youngest is 14 (and is apparently an amazing dancer), butttttt I don't know if they'll ever be as successful as other SM artists... seems like they're trying to copy Big Bang a little. They don't seem to go w/ the whole SM vibe. Their song sounds like something B2K had lol... smooth dancing and the whole pop/R&Bness.
Their 1st mini album will be released tomorrow.