I would say that I'm a partial cardigan freak. I love cardigans a LOT but I don't own very many -- maybe only 5 or 6... and all but 1 are regular. After looking at my "fashion" folder, I realized I actually saved a lot of pictures of ppl in cardigans!
I'm still looking for a

long, deep V-neck boyfriend cardigan

!

Boyfriend cardigans are loose + comfy and basically looks like you stole it from your boyfriend.

And they're fantastic!

This girl says it best

"That kind of cozy, snuggly, loose-ish fit that is perfect for mooching around the house in, but also great to dress down dresses with a belt when going out or just an all-purpose, wear-over-everything THING."



Who else finds men in cardigans weird? I mean, all men except those artsy ones or the metropolitan ones.

Now I'm just reminded of Mr. Black and his one navy blue G-pa cardigan he apparently doesn't wear anymore...


Anyway, these are what I'm talking about!

This one is cute, but maybe a bit short.

She can pull it off so well 'cause she hardly has any hips.

Actually that one looks similar to the Boyfriend Cardigan from GAP [$49.50]

Xept this one is too figure-hugging. I'm looking for one that's oversized and loose.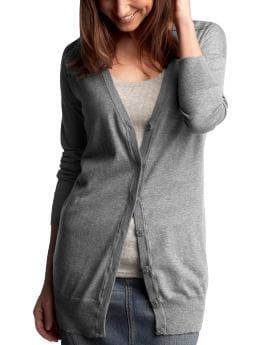 This one is a great length.

I know I already posted this picture, but it's the perfect cardigan length.

This one is from a Japanese site - has a great weight to it.

This is the most perfect one I've seen - and it's from none other than American Apparel for $38, I believe.
Yayy - I really like the gray, but I have 2 gray cardis already.... oh well - this will replace that OffTheWall one that totally shrunk in the wash.

2 new things from Ruehl 925
Everyone needs a yellow hoodie!

I usually don't like these scrunchy tube top thingies, but this one is pretty... but too expensive.