I feel so fashionably uninspired.

Here's an Off The Wall coupon for 20% off (thx Nad!) for Oct 26-28th. Click and print away!


I must say that Tuesday and Thursday nights are probably my favourite weekday-days. After I come home from Jap class around 8:15, I can relax for the rest of the night because I know I have the whole day tomorrow to concentrate on whatever needs being done.

I shed so much the last month.. but apparently 100 hairs a day is normal. I can't afford to though! Ppl have also commented that my hair colour has gotten lighter. Here's a pic from today while I was studying in the library. I'm getting a few split ends and having long hair that I can see every time I look down makes me notice them all the time. I need a trim. I think my perm is almost out - probably a couple inches... but I don't want to cut that much!

The past few days, in between studying, I've been watching

All About DBSK II

with English subs... and it just makes me like them even

more

. Bern and I both agree that the reason why we love DBSK so much is because they're not like all the other stars - they don't act like them. They act like every one of us... well, because they really are regular people. They're just so great in all aspects: personality, voice, dance, dorky-ness, and looks.. and they're fun-loving, creative, and have a great sense of humour. They're people who you could easily be really really good friends with. I wish I could show you, but I really can't describe how fantastic they are in words... and I have no idea how I'm ever going to get a ticket to their concerts.

I was just brushing my teeth and looking at all of my makeup scattered across my bathroom counter... and decided to show you what I have and what I think of them!



N's Makeup Collection


Now, I love makeup but I still need a LOT of practice putting it on. Even though I basically practiced every day during the latter part of my trip in the summer, I feel like I need a professional to coach me still.


Adore: NARS blush [$25] in Orgasm


I really like it - I requested it for last year's Secret Santa and got it from Jamie =).
It's a really refined pigment blush that gives you a very natural glow if used lightly. Orgasm is light pink and has a tinge of gold sparkle to it which gives you a more healthy look.
This colour is a well known "universally flattering" colour, suiting all skin types.
The container is matte black and is made out of this good quality grippy material so the blush will never slip out of your hands. This blush also won a lot of awards and is a favourite among a lot of make up artists.

Adore: Shiseido Powdery Foundation [$35]
I don't remember which colour I use... I think it might be 040 Natural Fair Ochre. I'm a pretty big fan of this foundation. It gives great coverage and is velvety and applies well and reduces shine without making you look the least bit cakey. If you pick the right shade, it looks very natural and definitely softens your imperfections. The case actually costs $7 and all refills are around $28. I've bought 2 or 3 refills since I've first purchased this. If you're Asian, Shiseido is a great company that creates perfect cosmetics that suit Asian skin tones. The added bonus of this foundation is that it has UV ray protection with SPF 14-17. For normal-oily skin types.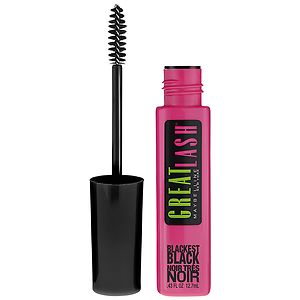 Maybelline's Great Lash Mascara [$7] in Blackest Black
Ok this is THE mascara many celebrities swear by... and that's why I thought I'd give it a try (for $7, why not?). Mascara is probably the one thing I'm more confident in applying. I've had this mascara for about a year (I forgot when the expiration date for mascara is... 6 months? oops). I've had a couple other mascaras I've divorced before this one (Revlon prime and coat (not bad - my eyelashes felt soft after because of the primer) and Clinique (sucky). So far, I think it's definitely worth what you pay for it. If you apply it correctly, it definitely coats and separates your lashes and even lengthens if you apply multiple layers (wait for them to dry in between). This mascara is not waterproof as waterproof mascara thins out your eyelashes and should only be used sometimes. I would like to try a different mascara after I run out of this one.

Adore: Shiseido Eyelash Curler [$16]


Eyelash Curlers aren't scary! Don't be intimidated. I cannot live without one - I'd rather have an excellent eyelash curler than mascara and eyeliner any day. Fantastic investment. Like I've said before, Shiseido makes for Asians so this curler fits my eye perfectly and gets every single eyelash. I've tried ones from Lancome and Estee Lauder... which were probably made for caucasions with deep eye sockets because those ones hardly curled the ends of my eyelashes. I've also used no-name eyelash curlers in the past and the pads of the curler become indented so quickly... oh and

Tweezerman curlers

are the worst EVER (so expensive too!!!).

Cover Girl Perfect Point Eye Pencil [under $8]
I bought this eyeliner so long ago... I think in Grade 11! I've always been a bit apprehensive about pencil eyeliners (you know, the ones that you have to sharpen and look like an actual pencil? Those HURT) but this one is great because it's crayon and glides on really smoothly and easily!! You can twist it and more will come out too. Only thing is that it smudges easily and if it mixes with the oils on your eyelid, it can come off so it may require some touch-ups throughout the day. I have weird-shaped eyes when it comes to how to apply eyeliner. I have to apply a thick line or you don't notice any difference. This eyeliner is great to make my line thick super quickly!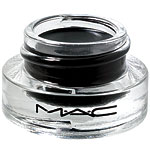 MAC Fluidline in Blacktrack [$18]
It doesn't get any blacker than this. Fluidline is definitely one smooth eyeliner. You need to buy a special brush to apply this.. and you definitely need a LOT of practice. I still haven't mastered it and have had to have ppl (ie Bern and Artemis) to help me apply it haha Hopefully I'll get it by the time I finish the tiny pot (which might be forever because you use SO little every time). Although it's hard to apply (for me), this eyeliner does not budge on your eyes no matter how much oil you have or how much you've been crying. I only use it when I have time and when I go to places where I cannot be bothered to keep re-touching. I do recommend this though if you have a steady hand! A lot of people seem to use MAC's angle brush to apply it, but basically anything that's not flimsy is good. I use an eyeliner brush I got from the Sephora Line in Malaysia, but you can probably find it in any Sephora (in the States).

MAC Studio Fix [$32 incl. tax] N35
I only bought this because I had a gift cert and have heard rave reviews. Honestly, I don't notice hardly any difference when I apply this. When I told the MAC lady, she says it's because I have such good skin that I don't need it (I beg to differ). I tried applying it sheer (which actually looks very natural)... and layering it on (which made my skin look very cakey). It's best to use a fat blush-like brush for this instead of the sponge it includes. I've only used it a couple times and it doesn't look like it's going to deplete anytime soon. BUT from what I've tried so far, I don't think I'll be re-purchasing this.

Almay Skin Smoothing Concealer with Kinetin

[$8]
Concealers can be handy for those surprises on your face. This one has SPF 10 and is hypoallergenic. This one is alright.. it does the job but it sort of dries out my skin. I've had it for a long time. I think it's time for it to go bye bye. If you want to learn more about Kinetin, go HERE. I just need a better liquid concealer.

Adore: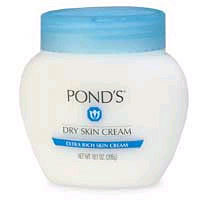 Pond's Dry Skin Cream [$8-10]
Bern says "PONDS CREAM//Best Stuff Ever Invented". Yea Ponds is pretty darn good. It's dermatologist-tested, it won't clog pores, it's hypoallergenic, and it's great for all types of
skin. I needed a night cream so I decided on this one because I heard Jennifer Lopez slathers this stuff on every night (haha yes I can be influenced that way). It unfortunately smells like a grandma (I do believe it's made for older women with aged skin but it doesn't indicate any of the sort on the label), but other than that, it's perfect. So every night, I apply a thin layer of this all over my face and when I wake up, I have the best moisturized skin I've ever had! This stuff lasts forever too - there's so much in that pot and you never use a lot everytime. My only complaint is that having it in a pot is not very hygenic as you always have to dip your finger in there... and what happens when I reach the bottom? Are my fingers long enough? They should provide spoons like Origins does. Pond's is also known to be a great makeup remover and I can definitely contest to that. When I ran out of eye makeup remover, I used Ponds and it worked wonders.
It's a very rich cream so it's perfect for the winter nippiness. Highly recommended!

Adore: Fake Eyelashes from Daiso [$1.50USD/pair]

Oh Daiso... so cheap!! Daiso in the states is a lot cheaper here at $1.50 per item... and with tax, it's still cheaper. Who thought I'd be one for false lashes? They're really fun, though. They're actually not that hard to apply and Artemis showed me how you can use one lash for both eyes for a much more natural look - just fit them, cut them, and place them on the outer ends of your eye. The selection at Daiso is also pretty impressive. It's ridiculous how expensive the ones at MAC are.. at almost $15/pair! You can only use false lashes a couple of times before you should dispose of them. So yea - pick up a pair next time you're at a Daiso!


For lips, I just use naturally/more neutral coloured lip glosses or shines. I used to have such a big collection of those too but I've finally weeded out most of them.
Actually,
Nad got me
Rimmel's Underground Light
Beam After Darkness Lipgloss

for my birthday! It's neat because there's a mirror on one end and when you press the button on the top, there's this light that lights up
the whole gloss so you can apply this anywhere (like underground! haha)! I got the clear one with sparkles. Usually I'm not a big sparkle fan, but this one is very subtle and the gloss glides on amazingly smooth and almost feels moisturizing! Olga has a huge Rimmel lip gloss collection - same gloss in different shades! That's how much she loves them.

I do not use eye shadows as I think they make me look like a clown and I prefer the more natural look on myself. I would, one day, like to see what a smoky-eye would look on me.


OK so that's my

basic makeup collection

. I haven't even touched all the other creams, tools, hair products, accessories, and cleansers I use. That's for another day.
(Sry if there are spelling/grammatical mistakes.. I'm tired and it's 2AM)

That was fun.

Btw, I'm always looking out for new makeup.

Which cosmetics do you use and like??

Tell me! I want to know =D