Seriously.

Just checked my exam schedule - not bad at all!
Tomorrow, it's from 3:30-6:30PM and on Tuesday, it's from 12-3PM!
Anyway, last night I was playing around with my makeup and tried some eyeshadow - probably the third time I've played around w/ eyeshadow in my life (I need a one on one tutorial man!!) and was thinking HEY this is sort of like the time...
... when B and I got our nails painted in the "gradient" way in Seoul! We were apparently donning one of the season's (Spring 09) hottest trends,
ombre
. Course, we didn't know it was "the" trend of Spring lol.. Also called "graduation" or "gradated", ombre is french for "fading colours/tones" and it comes and goes as a trend on the runways.
It was all over the Spring 09 collections: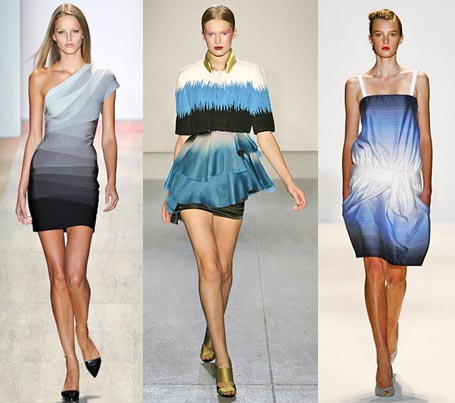 (love the Herve Ledger dress on the left, above)
These 2 single pics are from Celine's Spring collection 09
I'd use this:
More bold.. I guess it's hard for a guy to wear ombre if it's not in a tie or a shirt O_O
But for for those of you who think that
wearing
ombre is a bit too wild (though I don't know how).. or if you want to carry the trend another way, you can also do it on your nails like B+me OR you can do it for your hair!
Don't worry, it doesn't have to be as dramatic or as extreme as what you're thinking.
I'm sure most of you have seen this somewhere floating on the web - it's everywhere.
I kind of laughed when
Who What Wear Daily
sent out an e-mail titled "ombre" hair 'cause I was thinking it would be something like the picture above.. and then I laughed again at the pictures they presented 'cause if
that
is what is considered ombre hair, then I've been doing it for
years
now due to my hair not liking dye!
Of course, mine wasn't on purpose... but do half of the celebrities above look like they did it on purpose either? (Well.. maybe...) To me, it just looks as though they're letting their natural hair colour grow out, they had no time to get their hair done, they're waiting for the next trend to come out before they damage their hair again, or dying is suddenly too expensive for their wallets.

Other ways to wear it: the ombre scarf you've probably also seen... I'm indifferent about it
Oh and it doesn't have to be done on the same thing either!
This paint job is considered ombre, too:
So yea - lots of ways to wear the runway trend without looking too outwardly try-so-hard trendy
!